As a part of my durational, End to end Rocket long weekend I made this "rockin" pesto: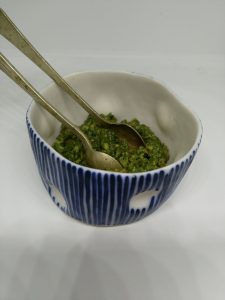 Ingredients:
About 8 handfuls fresh rocket leaves.
2 handfuls basil.
1/2 handful of pre-roasted cashews
Olive oil
Balsamic vinegar
3 cloves garlic
1/2 juice lemon
Dry cheese or parmesan, finely grated
Method:
Wash Rocket, Parsley and Basil, dry and push through a food processor.
Add rest of the ingredients and continue to blix in the food processor to taste.
Enjoy!