Recently, I spent time in Shenzhen China and Bali. What a street food array of amazing treats! I went to each place, found a local street food place I liked the look of and watched each one for a bit, making sure the joints were clean and the staff cooked well. Then,  through the power of google translate I asked the owner to cook for me with no salt. Rini in Denpasar and the Uyghur Halal guy became my silent and nodding friends every night I spent alone, walking through the streets thinking about Constant Current Charge rates,  Ohms law, building a battery test environment for hot looking battery banks and getting my brain around the infinite possibilities of my new little company, The Women of Steele. Here are a couple of total wins I found on my travels that I have come home and tried with relative success to make on the back yard engine that could, my Weber Q.
Here's a picture of Ohm's law for inspo:

Chargrilled Enoki Mushrooms on Sticks (oh and some scallops):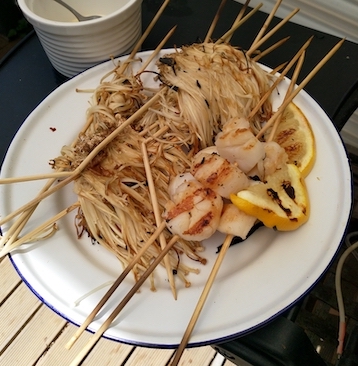 Ingredients:
1/2 bunch of wrapped enoki mushrooms (approx 200 gms)
2 whole bulbs of garlic still in the skin (do try to get organic. I grew my own this year!)
Thickly sliced grapefruit
Coconut oil, Extra Virgin olive oil, Chilli flakes or fresh chilli, sesame oil mixing to your taste
Method:
Literally just soak the sticks in water and then oil with coconut oil. Leave for at least 30 minutes.
Seperate garlic cloves, leaving them in the skin and skewer those potent bad boys up.
Finely thread using three skewers each the washed rows of enoki mushroom ad liverally coat woth a coconut oil (warm it first so it's nice and oily)
Stick onto a hot chargrilled BBQ surface for about 8 minutes, close the weber hood and turn once at 4 minutes.
Chargrilled Chinese cabbage and spring onions on .. yep you guessed it, sticks.
Ingredients:
About 8 of the bottom halves of leaves of a Chinese cabbage. The denser the better.
3 spring onions
Method:
With two skewers, skewer the Cabbage using the above process with the sticks
Mingle the spring onion in between the cabbage keeping the slices at the base and quite thick.
Stick onto a hot chargrilled BBQ surface for about 8 minutes, close the weber hood and turn once at 4 minutes.
Now the Uyghur folks do this same above process with all sorts of things like Chicken feet and whole fish. Tofu and spring onions on sticks with ginger is great. Give it a bash. It chars beautifully and looks like a million bucks. I wish I could give the Uyghur community in China a million bucks. Reckon they might need it more than me.
Balinese Fish in Banana leaves not on a stick.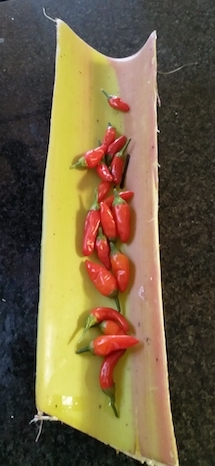 Ingredients:
Twine (without plastic)
4 big ole fresh banana leaves (you can get them frozen from an Asian grocer but fresh is best. I have my own banana tree so it's easy.
Any ole whole, fresh gutted fish. Just get whatever is fresh. I use Red Snapper and milk fish generally here in Adelaide.
2 Sliced lemon or 1 sliced grapefruit
Method:
Gut and scale the fish of choice.
Whack some Kaffir lime leaves in (fresh if you can get them)
Whack some thickly sliced Lemons or grapefruit in
Whack some of the below pestled goodness in if you wish
Oil the fish up and wrap it up tight with the twine in the washed banana leaves.
Cook on a closed weber, turned down low, turning over once for about 20 minutes
Balinese Salad with green and ripe mangoes, Spring onions, Fresh ginger, Tumeric, Onion with a chilli, sugar and vinegar dressing. Not on a stick.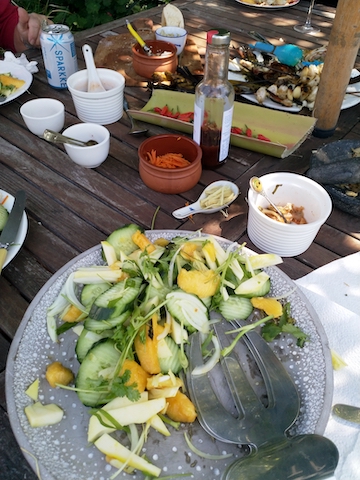 Ingredients:
2 x long cucumbers
1 ripe mango, sliced.
1/3 large, green, unripe mango finely sliced
3 Spring onions cut diagonally finely.
1/3 brown onion finely sliced
1 Kedondong (some Balinese nutty fruit thing I can't get in Australia so I do without but bloody hell it tasted good. Looks like this!
Coriander sprigs to make it pretty. Don't overpower this tho!
Method:
"Stripe" the cucumber skin off in parallel , leaving a strip of peeled  cucumber on then cut diagonally with a serrated knife so that it looks like corrugated iron roof. Put it at the base of a large serving dish
Scatter and layer the rest of the ingredients on top and add a few sprigs of Coriander if you feel like it.
For the dressing,  just add equal quantities of sugared water to taste (I use stevia light syrup as too much sugar is a bad thing for my guts), and white vinegar and chilli powder, some crushed ginger
Balinese Mortar and Pestle garlic, onion, turmeric szechuan peppercorns and ginger mash to go with it all.
Ingredients:
About 5 fresh chilli's. Leave the seeds in and roughly chop
A handful of whole szechuan peppercorns
1/2 a finely chopped brown onion.
6 cloves of peeled and oiled garlic. Stick a bunch of the peeled garlic cloves in oil at least a night before in a jar in the fridge.
A knob of ginger finely chopped
One turmeric root finely chopped
1/2 cup of vinegar
1/2 cup of sugared water
Chilli powder and chilli flakes to taste (I like it hot but not everyone does)
Method:
Mortar and pestle the ginger, turmeric, garlic and onion with muscle and intent. Mash it all up. Add the chilli and chilli flakes in and let it all settle at least an hour before implementing into your dish.
You can use this to stuff the fish, coat the things on sticks or just leave it to your guests to dab onto the fish. Beware! It's potent