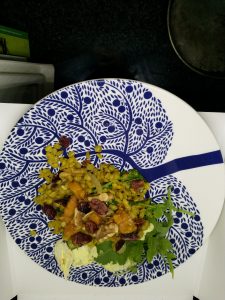 Recently, on one of those sunny patches on a winter's afternoon, I was given some backyard grown mandarins from the splendid contemporary theatre maker, Rosalba Clemente. We were talking of Contemporary performance and plays with a character called David. She Came up with the obvious, David from the famous 90's play and subsequent screenplay, Love and Human Remains. Given my diet is LowSodium and a little cray cray right now, Barley is my soviet tank stronk. I made this LowSodium Persian spiced barley and mandarin salad recipe and tweaked a little in the following and below way.
Mandarin and Pearl Barley ingredients:
1 1/2 cups pearl barley
1 litre home made chicken stock
1 tbspoon extra virgin olive oil
1.5 large brown onions thinly sliced
2 tspns minced garlic
1 tspn garam Masala
1/2 teaspoon cumin
1/2 teaspoon Harissa
1 tspn tumeric
1/2 teaspoon cinnamon
270 grms mandarins peeled and cut into rounds
1/4 cup fresh coriander and more sprigs to serve
1/2 cup toasted slivered almonds or walnuts
Rocket leaves
1/2 cup cranberries
Mandarin Vinaigrette Ingredients:
1 tblspn white vinegar
1/4 cup olive oil
1 tspn honey
2 tblspns mandarin juice
1 tspn mandarin zest.
Method: 
Place barley and stock in a medium saucepan. Bring to the boil over high heat. Reduce heat to medium. Simmer for 35 minutes or until tender. Drain. Cool for 20 minutes.

Meanwhile, make Mandarin Vinaigrette: Whisk mandarin zest and juice, oil, vinegar and honey together in a small jug.

Heat oil in a frying pan over medium heat. Add onion. Cook for 8 minutes or until light golden. Add spices. Cook, stirring, for 2 minutes or until fragrant. Add barley, sliced mandarin, coriander, 1/2 of the cranberries and 1/2 of the almonds. Drizzle with dressing. Season with salt and pepper. Toss to combine.

Transfer salad to a serving plate. Sprinkle with remaining cranberries and almonds, and extra coriander sprigs. Serve.
Help a sister out with her web hosting fees and buy a low sodium cookbook from here!