Unlock the phone using an L pattern on the unlock dots on the phone. IT's three dots on the left down and then one across.

 

Open the program "sphero edu"
If it asks you to login use the email address

gutteredrobots@gmail.com

If google needs a password – it's: roundkey2021
Click on the programs icon in sphero edu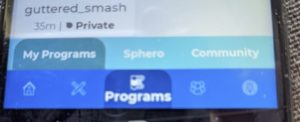 Click on the desired pattern and click view program
Click start
If you are asked to connect to a robot, for now connect to. The bolt.

 

Wait till you see an image of the bolt come onto the screen , click it and click connect
Hold the robot next to the phone until you see the word "connected" on the phone screen.

 

OK ! You might need to click start again bu then you are ready to roll.